Nantes, 31st January 2022. French electric outboard motor brand TEMO signs its second round of financing and raises €1.5m to expand its range and boost exports.

Renewed trust from historic shareholders
With more than 1400 TEMO.450 electric outboards sold in 2021 and a 96% customer satisfaction rate, the start-up confirms a successful first year on the market. TEMO records very few after-sales issues and now has a well-paced industrial production with around 100 motors leaving the factory every week.
 
These performances were welcomed by the start-up's investors and banks, who had invested €600K in June 2020 to strengthen the industrial know-how and deploy the sales force in France.
 
"Our first motor, theTEMO.450, has just been added to the catalogues of USHIP and Accastillage Diffusion," says Justine Perussel, Deputy General Manager at TEMO. "Avec un réseau de plus de 300 points de ventes référencés partout en France et en Europe, ces nouvelles collaborations devraient permettre de tripler les ventes du moteur en 2022."
For Alexandre SEUX, the CEO, these good results show a very positive annual balance sheet: "The major steps taken this year despite the crisis have made it quite natural to convince our shareholders to join us in this new round of financing. And to attract four new highly qualified investors to join the adventure".

Composed of regional business angels, the Morbihan investment fund OCTAVE, marine industry professionals and accompanied by the banks Crédit Maritime and Caisse d'Epargne, this second round of financing of €1.5 million will allow the brand to grow worldwide and to develop its range of electric motors.

For Jean-Philippe Leray, Bruno Le Jossec and Hervé Libeau, the three investors who are joining TEMO's strategic committee, this round of financing comes at the right time: "We know that the marine industry and engine manufacturers in the sector are turning to electric power. TEMO now has the right industrial partners and in-house experience to accelerate the development of its range and to aim for a leading position in the small power market. This new funding will allow us to stay ahead of the competition in the marine portable motor sector and strengthen our R&D team".

A new electric outboards on the market
TEMO is due to announce the release of a brand new, more powerful model (1000W)  in the spring of 2022, designed for large tenders and small sailing boats.
 
Meanwhile, the Loire-based company is also developing new product adaptations and accessories to enable its motors to be used with all light watercraft (kayaks, optimists, etc.).
An international deployment
The funds raised are also intended to strengthen TEMO's presence around the world. An export strategy is already well underway since the end of 2021 with the appointment of several official distributors in the United Kingdom, Scandinavia and Oceania.
 
In 2022 and 2023, TEMO should be able to distribute its products all over the world, especially in North America, which is currently under study.
A local and responsible vision
While TEMO's ambition is to go international, the manufacturing of the motors remains local. Based in the Pays de la Loire region, the start-up still assembles its motors in its Loire factory and sources 70% of its components within a 100km radius of Nantes. To take its responsible approach even further, the company is going to devote a brand-new budget of approximately €30,000/year to CSR and the study of its environmental impact.

In order to strengthen its links with the region, TEMO is supported by Atlanpole, the Réseau Entreprendre network and by the startups Village of the Crédit Agricole. These structures and networks are a major strength for the young company. Also in 2021, TEMO benefited from the financial support of the Pays de la Loire Region and the Ademe stimulus plan for the energy transition.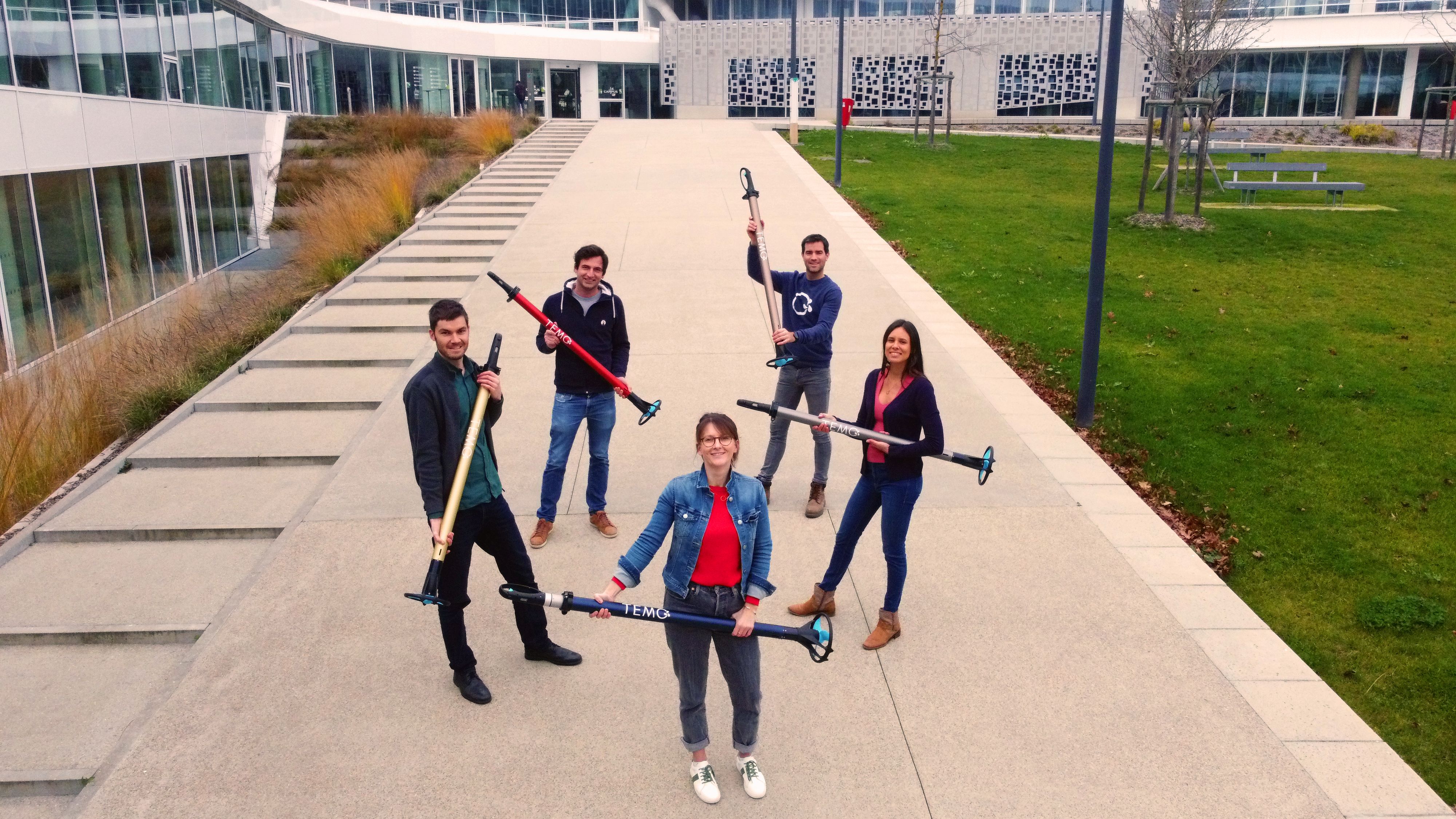 the press speaks about it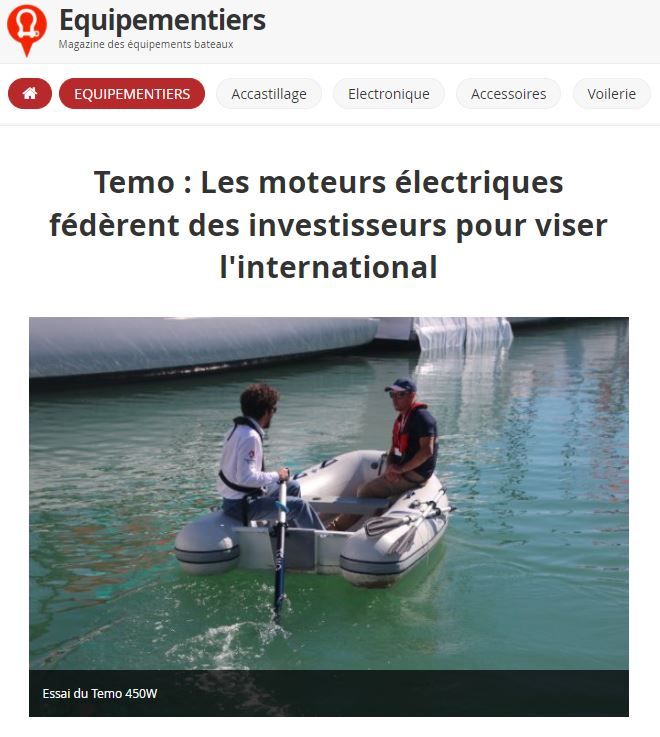 BoatIndustry. 
"Le constructeur de petits moteurs électroportatifs Temo lève 1,5 M€. Un montant qui financera les projets de développement d'un nouveau moteur marin plus puissant et des ambitions internationales, explique Alexandre Seux, fondateur de l'entreprise. (...)"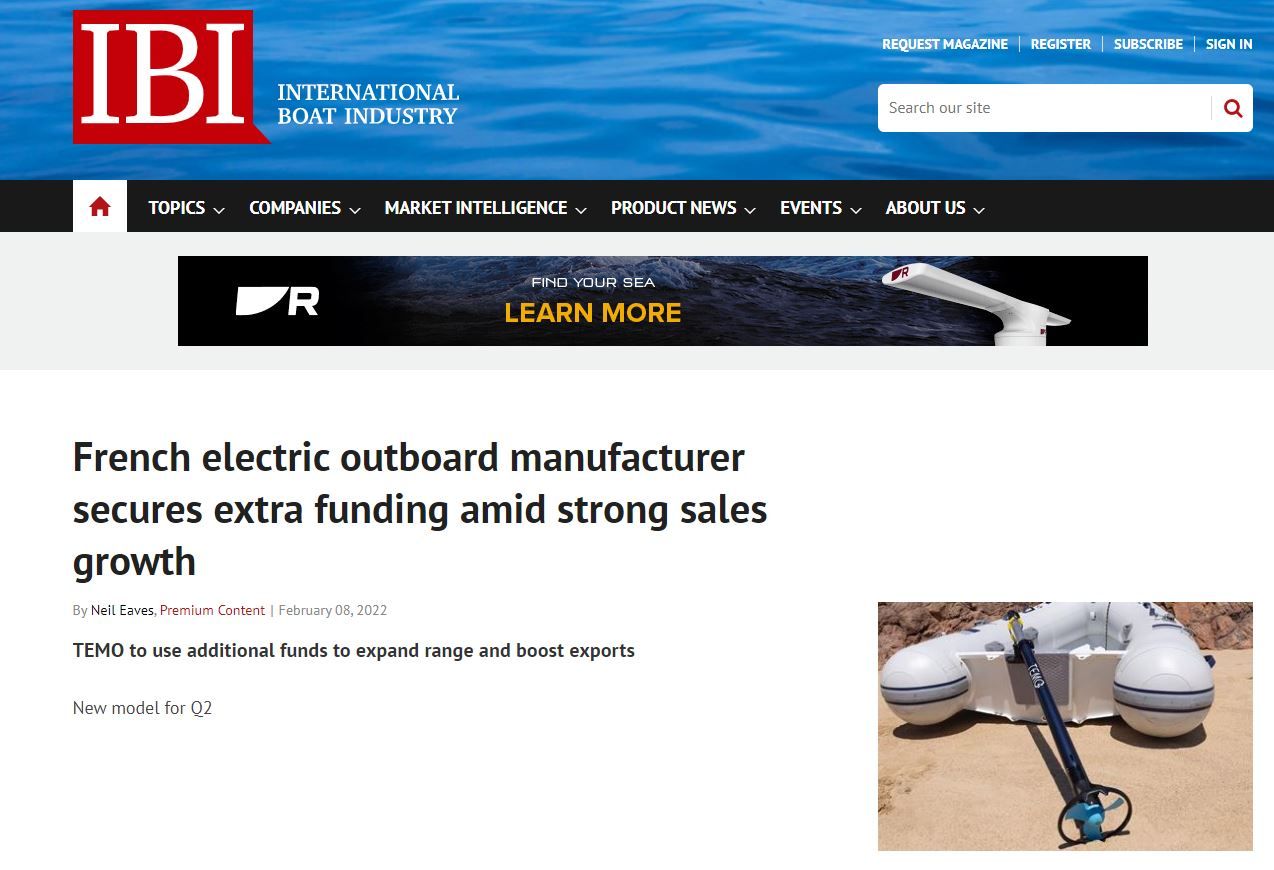 Find the IBI article
French electric outboard motor brand TEMO has signed its second round of financing raising an additional €1.5m to expand its range and boost exports.